IDS Creative Scholarship 2014
05 June 2014
IDS | International Design School memberikan kesempatan kepada insan muda kreatif Indonesia yang memiliki passion di bidang Desain, Animasi, dan Film yang ingin meningkatkan kompetensi dan menjadi yang terbaik di industri kreatif untuk meraih beasiswa IDS periode Juni 2014.
2 – 14 Juni 2014
College & International Pathway (Design/Animation/Film)
19 Juni 2014
Juli 2014
Syarat Pendaftaran Program Beasiswa :
Pendidikan minimal lulusan SMA/SMK/sederajat dan belum menjadi mahasiswa IDS.

Memiliki passion di bidang industri kreatif (Design/Animation/Film).

Menunjukkan kreatifitas dalam bentuk portfolio (hasil karya) yang mengesankan.

Design : minimal 10 karya desain.
Animation : minimal 5 gambar manusia dan 5 gambar landscape/perspektif.
Film : minimal 6 karya audio visual, seperti Film, TVC, Serial TV, FTV, Web Series, Iklan, Music Video, dll.
Menyerahkan CV (termasuk pengalaman kerja dan prestasi di kompetisi apabila ada).

Lulus Test Masuk dan Interview.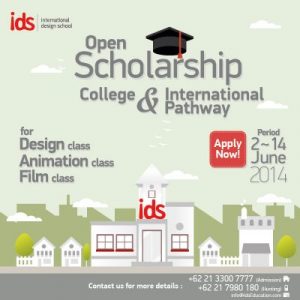 Kirimkan Karya Kamu!!
Raih IDS Creative Scholarship 2014!
Be The Next Creativepreneur..
Contact Us For More Details :
021 3300 7777 (Admission)
021 7980 180 (Hunting)
Posted in: News