Open House IDS: Seminar Digital Marketing bersama Madeleine Ong De Guzman
August 28, 2015

Posted by:

IDS | International Design School

Category:

News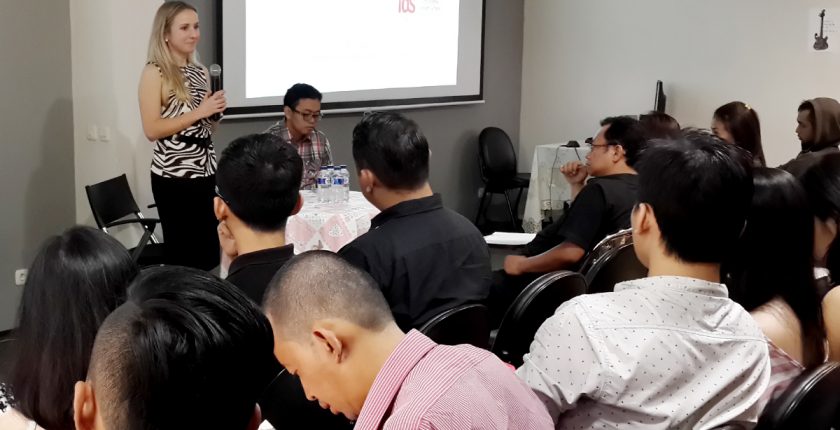 Hari Sabtu, 22 Agustus 2015 yang lalu telah diselenggarakan seminar digital marketing yang bertajuk "Getting New Customer & Build Business With Digital Marketing" di kampus IDS | International Design School, Pejaten Barat, Jakarta Selatan dengan pembicara Madeleine Ong De Guzman, VP Marketing dari elevenia.co.id, sebuah situs belanja online yang memiliki konsep open marketplace nomor 1 di Indonesia yang menawarkan kemudahan dan keamanan berbelanja.
Begitu besarnya antusias dari teman-teman peserta seminar yang ingin mengikuti seminar digital marketing kali ini, sehingga seminar pun dibuka menjadi dua sesi, yaitu pada pukul 13.00 WIB dan sesi kedua pada pukul 14.30 WIB. Sebelum seminar dimulai, Open House IDS dibuka oleh Rhein Mahatma, selaku Program Head of Digital Marketing & eCommerce IDS, kemudian pengenalan program IDS disampaikan oleh Bisma F. Santabudi, selaku Manager Marketing IDS. Seminar digital marketing ini pun kedatangan seorang tamu, ms. Victoria dari Gopher Indonesia yang memberikan pendapatnya mengenai bisnis dalam digital marketing.
Madeleine Ong De Guzman, wanita keturunan Filipina ini menjelaskan bagaimana peran digital marketing di perkembangan zaman yang semakin pesat sekarang ini. Dengan mengenalkan Elevenia, ia membuktikan betapa pentingnya kehidupan digital, di mana kini apa saja bisa kita dapatkan hanya dengan menyentuh gambar pada layar smartphone. Dengan menggunakan pengantar bahasa Inggris, Madeleine memberikan gambaran yang nyata mengenai usaha eCommerce-nya di Elevenia.
"Google, mesin pencari yang sangat top digunakan masyarakat. Hanya dengan memasukkan kata kunci yang ingin dicari, maka akan muncul berbagai macam informasi yang berkaitan dengan kata kunci tersebut. Melalui berbagai inovasi, google berusaha mengikuti perkembangan yang dibutuhkan masyarakat masa kini sehingga menjadi top of mind", ungkap Madeleine.

Madeleine pun menceritakan pengalamannya, ketika ia menemukan fakta bahwa ibu-ibu saja pun kini memiliki akun sosial media, seperti facebook, twitter, dan instagram. Hal itu menjadi salah satu potensi besar yang dapat membangun kepercayaan diri para pengusaha yang berbisnis di dunia online.
Seperti yang kita ketahui betapa pentingnya internet di dunia saat ini, Madeleine memberikan tips dan trik untuk usaha online atau pemasaran secara digital. Ia memberikan presentasi mulai dari search engine, bagaimana memilih kata kunci (keyword) yang baik digunakan agar dapat menjaring calon pembeli di google hingga tips untuk membangun semangat para pebisnis online.


Itu tadi liputan event Open House IDS: Seminar Digital Marketing bersama Madeleine Ong De Guzman di kampus IDS | International Design School. Ikuti terus event-event IDS selanjutnya melalui twitter @idsEducationcom, facebook page IDS Education, serta instagram @idseducationcom. Sampai jumpa di event IDS selanjutnya! (KN)