Karya Mahasiswa IDS Dipamerkan di "SPEKTRUM" Student Art Exhibition
April 5, 2016

Posted by:

IDS | International Design School

Category:

News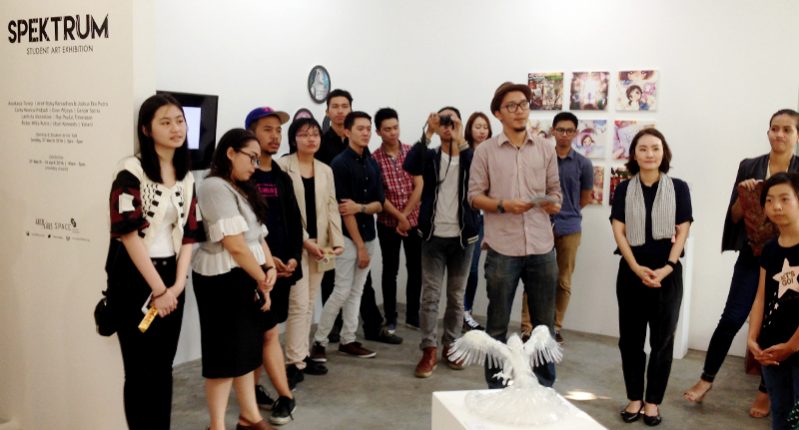 Proses kesenian melibatkan banyak aspek sehingga membuatnya menjadi menarik. Satu hal yang tak terpisahkan adalah aspek pendidikan. Pendidikan seni menempatkan dirinya ke dalam posisi yang fundamental. Para pelajar yang mempelajari pendidikan seni diharapkan mampu memberikan warna bagi konstelasi dunia seni nantinya. Perkaranya, saat ini belum terlalu banyak pameran seni siswa sebagai bagian penting dari proses pendidikan seni itu sendiri.

Pada hari Minggu di akhir Maret lalu, tepatnya tanggal 27 Maret 2016, The Center for Art and Community Management (ARCOLABS), sebuah pusat kajian seni yang merupakan bagian dari Surya University, berjejaring dengan tujuh dosen/guru dari enam institusi dan mengajak 11 seniman muda untuk berpartisipasi dalam pameran SPEKTRUM.

SPEKTRUM adalah program pameran seni berkala yang diperuntukkan bagi para pelajar seni dari berbagai sekolah melalui sistem kurasi dan rekomendasi para edukator. Hilmi Fabeta, yang berperan sebagai kurator pameran menjelaskan, "Selain untuk memfasilitasi para pelajar dalam berpameran dan menunjukkan pemikiran artistiknya, program ini juga menjadi upaya pemetaan pola pendidikan seni, khususnya yang terlepas dari kutub-kutub seni di Indonesia (seperti Bandung, Yogyakarta, dan Bali)".

Para edukator yang antara lain adalah Dr. Karna Mustaqim (UPH), Darfi Rizkavirwan, S.Sn, M.Ds (UMN), Yasser Rizky, S.Sn (Binus), Evelyn Huang, S.Sn., M.Hum., M.Sn (IDS | International Design School), Vinna Waty Sutanto, S.Sos, M.I Kom, C.HI (Digicomm Surya University), Jeong-Ok Jeon, MFA (Technopreneurship Surya University), dan Marda Yuantika Haningarjati, M.Hum (Erudio School of Art) memberikan rekomendasi siswa untuk berpameran di SPEKTRUM sebelum diseleksi oleh kurator.

Dari proses tersebut terpilihlah Carla Monica Pridjadi, mahasiswa Sekolah Animasi IDS bersama mahasiswa dari kampus-kampus lainnya, yaitu Anastasia Turnip, Arief Rizky Ramadhan & Joshua Eka Putra, Evan Wijaya, Ganjar Satria, Laeticia Viorentine, Ray Paulus Timorason, Ritter Willy Putra, Utari Kennedy, dan Yunani.


"Melihat pameran ini kita bisa melihat dan merasakan bagaimana varian medium, cara pandang, dan tentunya antusiasme para
Student-Artist
yang hadir. Jejak-jejak proses pendidikan yang mereka alami menjadi proses yang menarik," ujar Hilmi.
Untuk kamu yang ingin melihat karya Carla dan teman-teman seniman muda lainnya, "SPEKTRUM" Student Art Exhibition ini masih akan berlangsung sampai tanggal 16 April 2016 di SPACE: Gallery + Workshop, yang terletak di Jalan Terogong Raya Nomor 36J, Cilandak Barat, Jakarta Selatan (di depan Jakarta International School). Kamu juga bisa melihat
karya Carla Monica Pridjadi
di website webcomic-nya atau di
blog Tumblr
personalnya.
(DT)